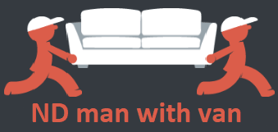 Stephen M.
"Friday 9th December was recommended Nick after being let down at last minute by someone else. The 2 guys worked so hard and completed our removal very quickly. Would not hesitate to use him again can't recommend high enough. Thanks from Steve & Jen"


Jack C.
"Courteous and accomodating during booking, Nick arrived on time, ready for the job. He had many many thick blankets, straps & equipment with him, making sure every item was professionally secured. He was also absolutely brilliant helping us getting loaded up, and crucially unloading & into the building at the other side (with some excellent problem-solving on his part, really keen & willing to help). I would highly recommend 'ND man with van' to absolutely anyone."


Daniel G.
"ND man with the van is simply the BEST! having moved about 30 times in my life, I have to say this was the best experience so far! Young passionate lad with a very clean van! On time, with a big smile on his face! He was making sure that all my items moved with care and professinalism and no risk involved! Especially my double door cupboard (worth £400) was my biggest worry, however he moved it with ease and good care! The pricing was on the good side to, maybe a bit cheaper then others would have done it!All in all iam very happy with his service and would be Happy to recommend him with full heart to anyone who needs a man with a van! good job pal!"


Sebastian D.
"Professional, excellent service. They offer all inclusive services. Load, transport, unload, it's all taken care off."


Hayley C.
"Nick helped us move from Sheffield to Nottingham and was so helpful, friendly and efficient! Really well priced considering all the driving he had to do on the day not to mention the fact he did all of the heavy lifting! Would recommend Nick to anyone looking, he made what should have been a super stressful day a lot smoother and really made every effort to ensure safe delivery of our belongings! Thank you so much Nick"


Nikki L.
"Very pleased with how these guys moved an antique glass door cabinet of mine, they were very careful and considerate! They took their time to ensure the cabinet was transported without any knocks and it arrived at the destination in perfect condition! I would definitely use them again. THANKS!"


Jana N.
"I could not recommend Nick enough! He showed up sharp on time, helped us with carrying all our stuff up and down and drove us safely all the way from Manchester to London. He was super nice and helpful and the journey was smooth. We had a great time chatting while driving, stopped to get some food when needed and continued driving - it was really chilled"


Not that stresfull if you choose the right people